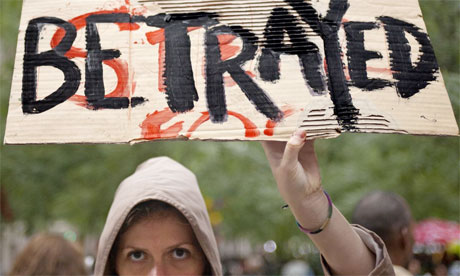 Since I've been in New Zealand, I've tried to follow American news and events as closely as possible without letting myself succumb to nostalgia or forgetting to live and participate here, in NZ, a country whose political and cultural climate is most definitely worth paying attention to.
Still, as I continue to follow the evolving Occupy Wall Street movement and the way it is portrayed by American media sources, my heart and thoughts are with those people, trying to reclaim something, so many things, that were taken from them, from us.
I've heard a lot of criticism of the movement that centers on its alleged "lack of demands." It seems those holding this opinion are confounded, confused by this movement whose problem is not that it lacks demands but has too many. This problem, this overwhelming abundance of demands, needs, pleas, seems natural in a country whose infrastructure is finally revealed as being supported, not by the mortar and stone we were told, but by a cheap, temporary substitute.
It seems natural to me that the petty complaints and petulance of the super-rich in the face of tax hikes would anger the 99% who paid to "bail-out" these now principled conservatives. That this anger cannot be contained in a single slogan or demand, but rather boils over into a cacophony of different visions, goals and desires also seems natural.
There is one such vision that is close to my heart and the hearts of many friends who, like me, have entered the event horizon of student debt. There is a movement among movements to demand that banks forgive student loan debt, and I find their reasoning compelling. I encourage you to check out their agenda
here
and also to read
this Guardian piece
, written by the movement's founder. Those eyes belong to my friend, Elaine.